On a railway modeller forum that has kicked me out recently, I came across Peter Butler, an accomplished modeller who carefully chooses the architecture of buildings he wants on his layout and then builds them to scale in polistyrene, with amazing ability to reproduce details. One of the buildings that drew my attention was a market house with most of the ground floor open for marketplace wares. Peter used a British house for his prototype (the object that modeller models):
This type of building was widespread in Europe. Another type, open to the outside were cloth houses to enhance trade in textiles. Example of one, a UNESCO monument, in Cracow, Poland (WW2 destroyed other ones  in my beautiful country of birth):
Renaissance by night
As sophisticated inside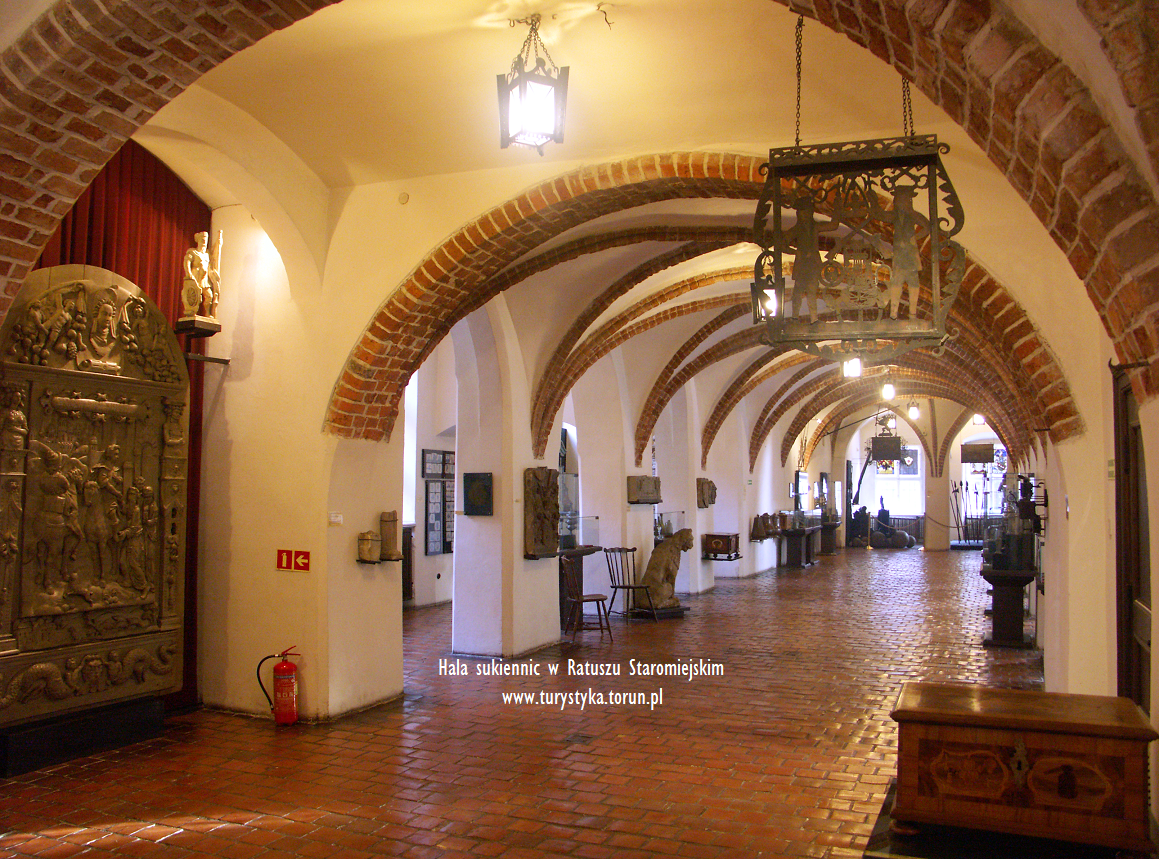 Brick dual arches
…Awesome inside and out! But too difficult for me to model 🙁
Peter's build brought recollections of Mirepoix in France where I arrived on a bicycle tour a few years back at the time of apple festival. The town was dressed in tons of apples: street bollards, shop windows and signs, to huge sculptures built of apples on marketplace lawns. I walked around in awe, taking an apple here and there, munching on the juicy crunchy essence.
No less amazing are the marketplace houses over there. I fell in love with that place, almost bought one of the houses near the market, intending to live there and open a business of wood crafts for tourists and locals… before discovering that France is dotted with nuclear power plants every 50 km or so. Too bad, the opportunity I imagined was great, local junk stores incomparable to those in Canada, as one can buy fragments of very old houses and objects centuries old.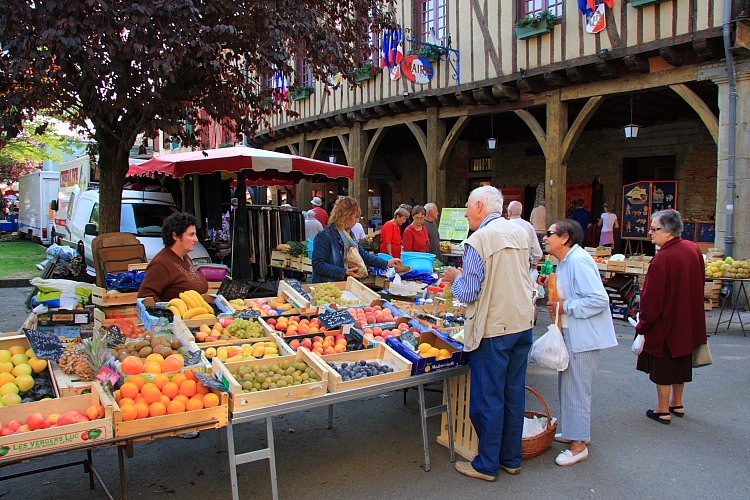 Mobile vendors occupy the space under open sky, as arcades are reserved for the business tenants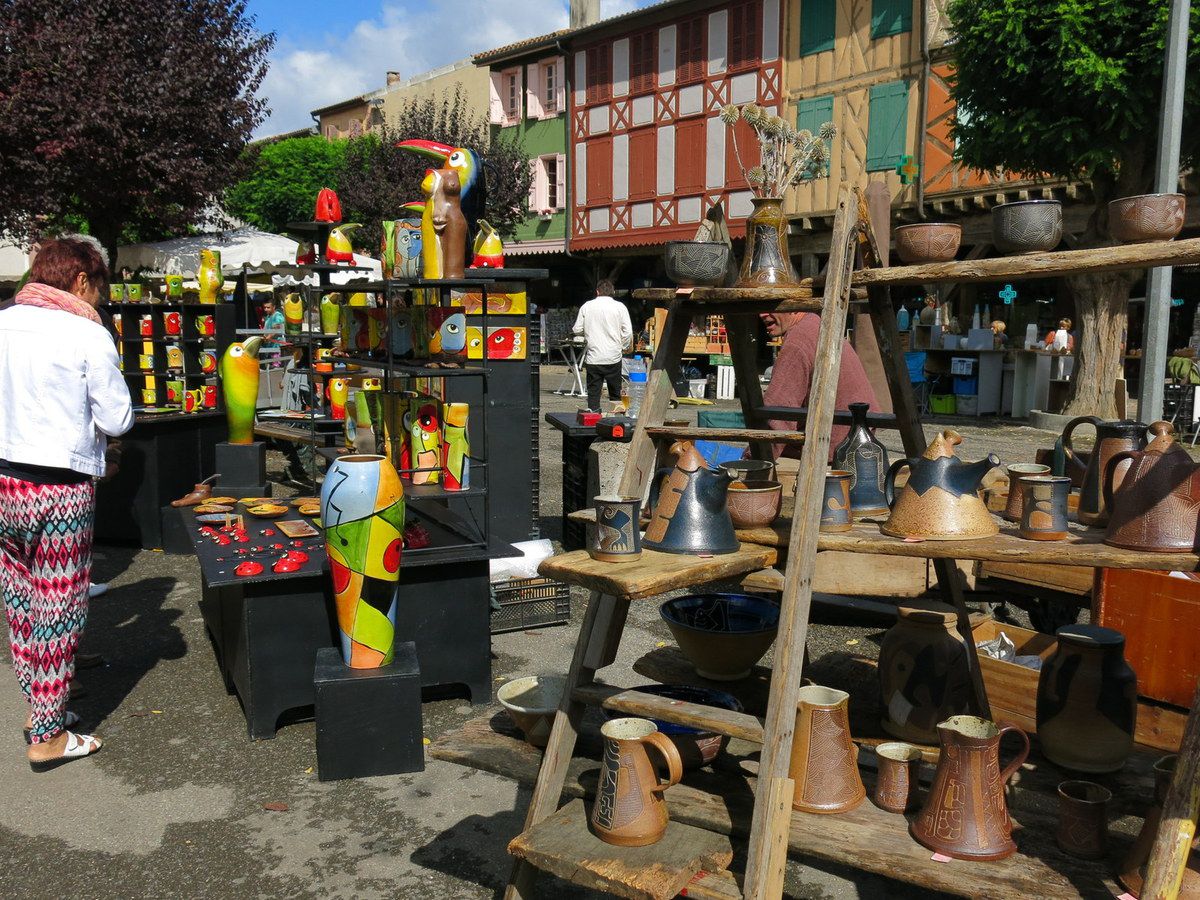 Not just produce, meat and fish, but also art and antiques…
Sun or rain no problem with umbrellas and tent canopies. Flowers in windows complement the colourful visual feast
Well-aged, straight and curved timbers, stucco (on brick/stone), unruly downspouts, light earth tones. Alphabet of bracing, low-pitch roofs covered w. clay tiles. Window shutters protect from mid-day sun. No flower boxes for same reason, or because it's the northern exposure? Business shields discrete and in old style — thank God! New epoch appendages: cables, lamps…
The richer the original building owner, the more intricate woodwork
Eiffelian beauty of Mirepoix market canopy, 3×4 bays big, vertical roof louvers all around
The unbearable lightness of steel  — a story of steel, wood and produce — all renewable with steel re-melting. Elegant, unobtrusive internal rod bracing w. steel rods held together w. beautiful simple detail where the rods cross.Roof trusses of x-ed type, riveted then, crass-welded in our times.
Timeless, beautiful, abundant… I'd like to convey these qualities in Cedar City centre on my layout, compressed relative to Mirepoix:
a few houses in a row, exhausting structural and detail varieties from Mirepoix
paving with "slabs" (tiles) of natural stone and stryrofoam embossed for finer stone work
buildings with slightly different levels and timber architecture
straight lines concorted by the tooth of time
timbers modelled in real wood that has weathered well — I have a supply of such stock, having dismantled my deck last year 🙂 and collecting weathered pieces of wood
stucco modelled with coloured silicone-acrylic-latex caulk, into which I will insert strips of preserved wood to get the effect of  plaster between timbers
over time, timbers in contact with the ground replaced with stone/concrete pedestals
human face sculptures (I will need to practice a bit) on ends of beams weathered and worn out by the elements
flower boxes in the windows
in front of the houses, metal ornamental canopy — artistic pattern punctured in thin alu sheet
marketplace day (where will I get figurines for the crowds?)
remainders after Mirepoix Apple Festival (how will I make hundreds of tiny apples?).
Missing in the list is "How will I make crates filled with produce?" This way (temporary pic, can't find a bunch taken months ago):