https://www.youtube.com/watch?v=b5xlL-C53f8
…………………………………..
Odradzając "teorie spiskowe", Gadowski na początku i znów przed min. 51:00 odfajkował: (1) wirus naturalny, (2) nieszczęśliwy wypadek i (3) bio-broń, lecz został przy 2. Poszlaki za możliwością 3 zupełnie pominął, a są najsilniejsze, patrz wklejka pod mejlem.  Komentator napisał pod filmikiem trafnie i demaskująco: Nieszczęśliwy wypadek jest wtedy gdy się wpadnie w poślizg i rypnie w drzewo. Jak ktoś taki syf produkuje to już jest celowe działanie.
Takie zmylanie publiki komu na rękę? Głównym celem globalnej kliki banksterskiej jest (terrorem "pandemii" i pod osłoną paniki) reset frinansowo-gospodarczy już w trakcie "plan-demii", a na dłuższą metę dokręcenie śruby i dokończenie realizacji NWO. Zaprzęgną do tego wszystkie możliwe środki pod swą kontrolą. Podobni Gadowskiemu wzięli się za krycie sprawców, wskazując na Chiny, np. syjonista Ezra Levant: 
Canadian pro-Zionist's anti-China spin on bio-weapon "Coronavirus".  
Na izraelskie powiązanie wskazałem tu na przykładzie prof. Liebera
uzupełnione tym
podsumowane po polsku:
Chiny są w konglomeracie globalnej władzy banksterskiej,
Trump od czasu kampanii wybiurczej dał dość dowodów, że jest najbardziej posłusznym w historii USA lokajem żydlactfa – od banksterii i syjonistów, po korporacje i lubawiczerów. Gadowski był zachwycony wizytą tego klauna we W-szawie i wciskał durnym gojom to, co żydlactfo zamówiło.
Gadowski przemilcza środki wspomagające "pandemię": 5G, psychotronika, masowe impulsy torsyjne, szczepienia (np. na grypę w Italii dla seniorów), dodatki do chemośladów… To ostatnie może sterować ścieżką "zakażeń", gdy środki dystansowania społecznego i maseczki staną świrusowi na drodze. Są podejrzenia o równoczesne rozniesienie do 85 krajów, czego zwykły wirus nie jest w stanie zrobić: 
Coronavirus Could Be a 'Chimera' of Two Different Viruses
Chemoślady to globalna operacja, zsychronizowana z "przewidywaniem" pogody, komputerowym sterowaniem nad zaplanowanym terenem, kompleksowa logistyka rozkładów lotów i ładowania zbiorników z rozmaitą zawartością na loty wyznaczone z góry. W Kanadzie niby loty odwołane, a jak zawsze na niebie smarki chemośladów rozłażą się w kilka godzin tworząc zaporę dla Słońca, którego bardziej teraz potrzebujemy. A propos, można opalać się przy otwartym oknie lub na balkonie, kto nie ma ogródka przy domu.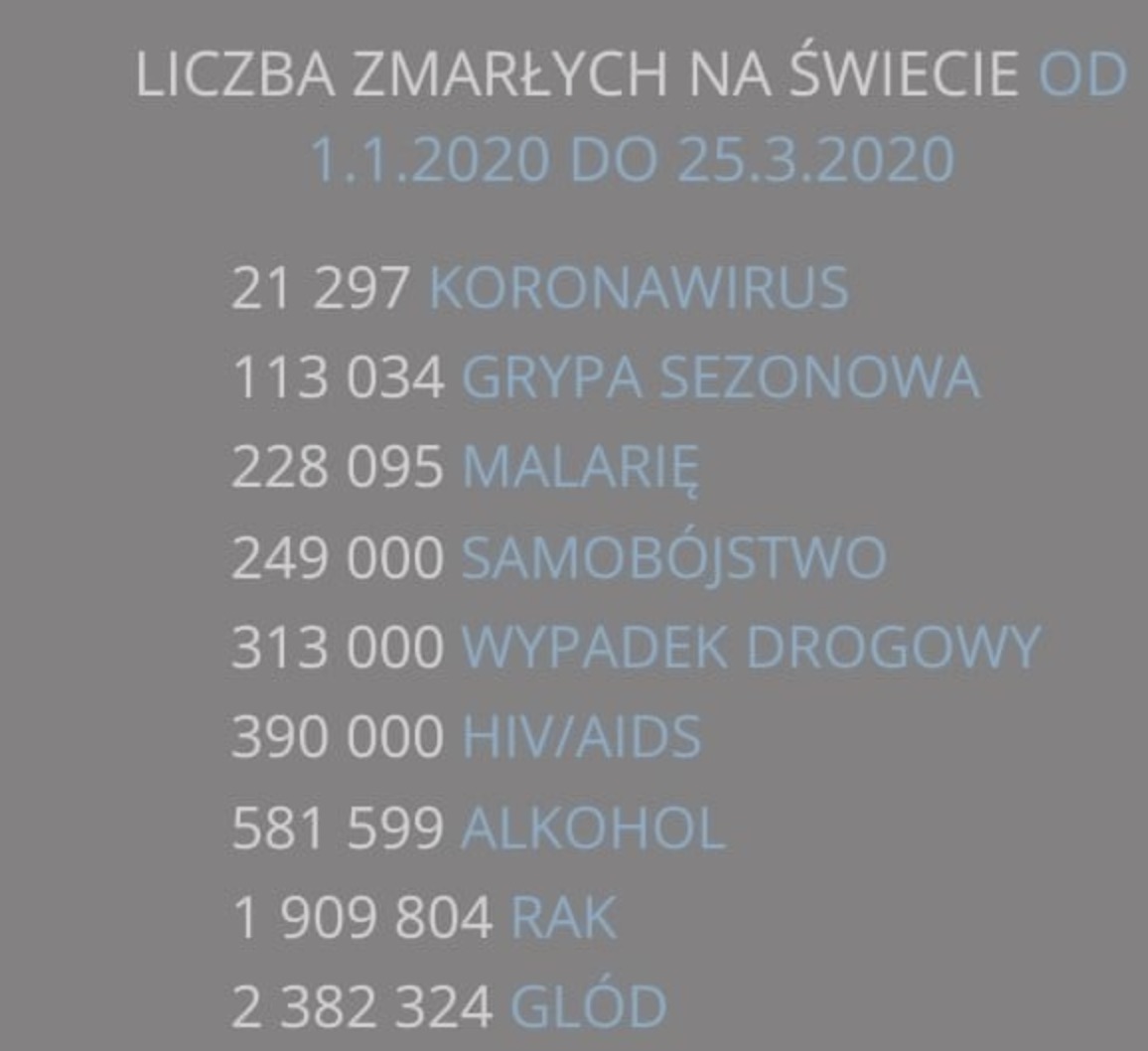 pozdrawiam myślących
Piotr Bein
TLAVagabond: The "Mysterious" US Vaping Illness With Exactly The Same Symptoms As COVID-19
[2013] Israel's Secret Nuclear Biological and Chemical Weapons (NBC) Italy also participates in the development of these weapons, linked to Israel by a military cooperation agreement and being its number one European partner in research and development. In the last Finance Act, Italy provided an annual allocation of € 3 million for projects of Italian- Israeli joint research. Like the one indicated in the last notice of the Farnesina (Italian Ministry of Foreign Affairs), "new approaches to combat pathogens resistant to treatment." In this way, the Israel Institute for Biological Research could render pathogens even more resistant.
US research ties to Wuhan science community
Why COVID-19 is more insidious than other coronaviruses
More evidence virus is man-made
New Research: The Coronavirus May Be Far Worse Than We Thought
Author Of "US Bioweapons Act": Coronavirus a bioweapon & WHO knows it
[2018] Wuhan research group develops broad spectrum vaccine
Italy and Iran attacked by etnically-selective coronavirus strain
TheLastAmericanVagabond: Coronavirus Started In The US, Not China
You Can Catch The Coronavirus More Than Once, And The 2nd Time May Be Deadlier
[pl] Dr Ewa Pawela: CZY KORONAWIRUS Z WUHAN TO BOMBA ETNICZNA
[pl, en, fr] Dr Ewa Pawela: Coronavirus in email or smartphone
TruNews rounds-up theories: CORONAVIRUS PLUS HIV: WAS THE CHINA VIRUS WEAPONIZED?
In October 2019, the Johns Hopkins Center for Health Security hosted a pandemic tabletop exercise called 
Event 201
 with partners, the World Economic Forum and the Bill & Melinda Gates Foundation. Recently, the Center for Health Security has received questions about whether that pandemic exercise predicted the current novel coronavirus outbreak in China. To be clear, the Center for Health Security and partners did not make a prediction during our tabletop exercise. For the scenario, we modeled a fictional coronavirus pandemic, but we explicitly stated that it was not a prediction. Instead, the exercise served to highlight preparedness and response challenges that would likely arise in a very severe pandemic. We are not now predicting that the nCoV-2019 outbreak will kill 65 million people. Although our tabletop exercise included a mock novel coronavirus, the inputs we used for modeling the potential impact of that fictional virus are not similar to nCoV-2019.