August 21, 2020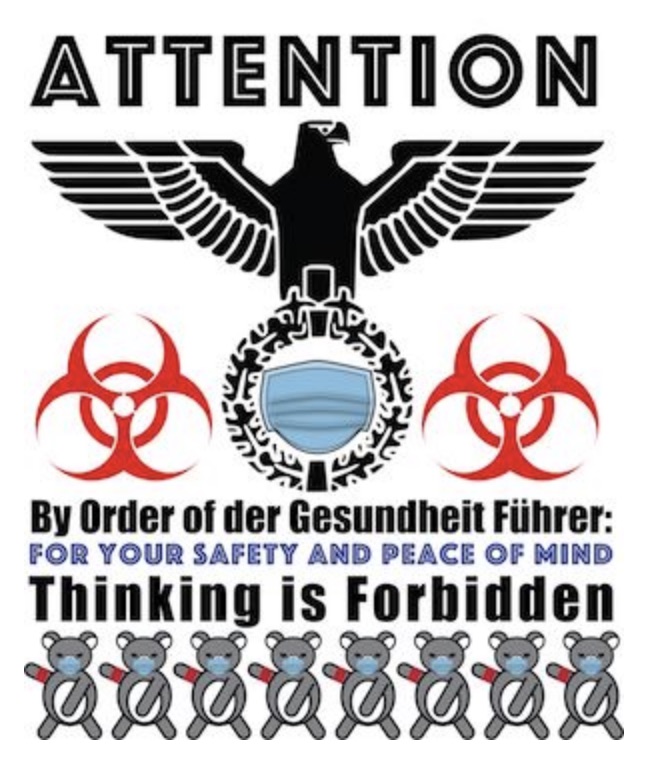 Below is the media release today by the BC Government turning the screws on those who dissent from their in-sane masking/ social distance orders.
oh, this is going to be good = the rally on August 29 2020 in Kelowna bodes to be a defining moment in Canadian history.
—-
Police and other provincial enforcement officers are being given the ability to issue $2,000 violation tickets for owners or organizers contravening the provincial health officer's (PHO) order on gatherings and events.
They will also be able to issue $200 violation tickets to individuals not following the direction of police or enforcement staff at events or who refuse to comply with requests to follow PHO orders or safe operating procedures or respond with abusive behavior.
Effective immediately, these new measures are enacted under the provincial state of emergency, using the extraordinary powers of the Emergency Program Act (EPA) in the ongoing support of B.C.'s COVID-19 response and Restart Plan.
"These orders will help us put a stop to the selfish acts of a small minority of British Columbians, who are threatening to erode the progress our province has made in controlling COVID-19," said Mike Farnworth, Minister of Public Safety and Solicitor General. "While I'm disappointed these measures are now necessary, I am taking this action to give police agencies and provincial enforcement officers the ability to take action against those who are putting people's lives at risk."
In addition to enabling action from police, the Province is enlisting compliance and enforcement staff from provincial ministries to support enforcement and help issue tickets for the duration of the COVID-19 pandemic. This includes liquor, cannabis and gaming inspectors, community safety unit inspectors and conservation officers.
"As a regional federation of local governments, we welcome these new measures, and we look forward to collaborating with the Province to ensure a co-ordinated and thoughtful response to COVID-19," said Linda Buchanan, vice-chair, Metro Vancouver board of directors. "Metro Vancouver will continue its critical role as a convener on ideas and strategies for preventing the spread of COVID-19 in our region and supporting the Province in keeping COVID-19 at bay."
The enforcement focus will be on $2,000 fines to owners, operators and organizers for contraventions of the provincial health officer's order on gatherings and events. This includes hosting a private party or public event in excess of 50 people, failing to provide appropriate hand sanitation and washroom facilities, failing to provide sufficient space in the venue for physical distancing, failing to obtain a list of names and contacts at a large event or having more than five guests gathered in vacation accommodation.
When required, police and other provincial enforcement officers will also be able to actively enforce the order and ticket a series of other infractions, including:
$200 violation tickets for individuals who actively encourage others to attend gatherings or events that do not comply with established requirements, or refuse to leave or disperse when directed to do so by enforcement officers; and, $200 violation tickets for individuals who refuse to comply with requests to follow the PHO order or safe operating procedures of a restaurant, bar or another licensed establishment, or respond with abusive behavior towards employees.
Violation tickets expand the Province's enforcement toolkit to support the COVID-19 response. Police and other provincial enforcement officers will independently exercise discretion to issue tickets for Emergency Program Act order violations under the Offence Act's Violation Ticket Administration and Fines Regulation.
If violation tickets do not act as a deterrent, or in cases of particularly egregious contraventions or for repeat offenders, police can recommend charges in relation to the offense. On conviction, judicial penalties of up to $10,000 may be levied.
+++++++++++++++++++++++
August 23, 2020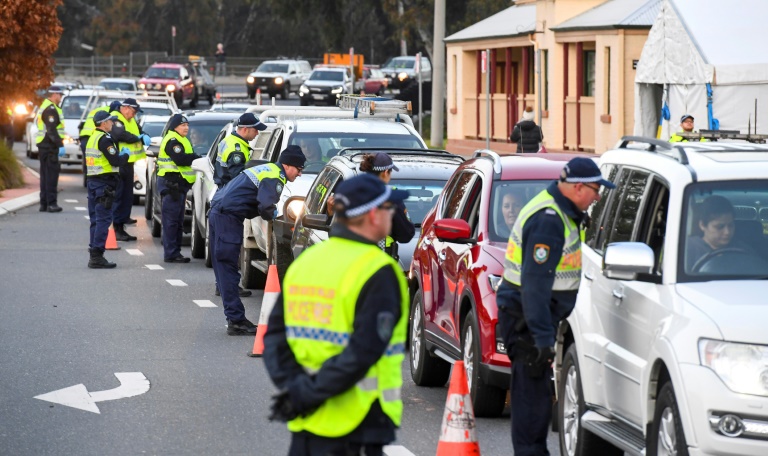 (left, no shortage of kapos in the NWO concentration camp) 
Gnawed by Satanist termites for decades, western societies are
disintegrating. Melbourne, a sophisticated metropolis of five million, has
become a dystopian nightmare. The only consolation is that its
Leftist population is getting its comeuppance. 
You can't leave! "Army deployed at stops outside of Melbourne to prevent anyone from getting out or in. Heavy police and army presence on foot in the streets and on the roads and in the skies."
(henrymakow.com) 
My state is in absolute disarray. I don't even know where to begin but I think by now if you are reading this you know about the draconian measures currently enforced in Victoria, Australia, particularly Melbourne. … What's worse is that the tone around here is generally apathetic or support for these measures. Particularly on the hard left, who were protesting to dismantle cops mere months ago as part of BLM. It's pure cognitive dissonance.
Thankfully I don't live in Melbourne, I moved away to regional Victoria just in time in 2018. But many of my friends are still there. Here are some of the measures enforced and stories I've gathered, for Melbourne and Victoria:
Strict curfew 8pm-5am. (76 people were fined for breaching curfew within the first 24 hours, including a man fined $1652 for getting a burger on the way home from work)
Mandatory masks in all of Victoria (even where I live, 90 minutes from Melbourne in a town where the nearest COVID case was 40 minutes away, and that was months ago. No reported COVID death within a 150km radius of where I live but I still am made to feel like I need to wear a mask and avoid all human contact.)
No travel except for "essential activities".
Army deployed at stops outside of Melbourne to prevent anyone from getting out or in. Heavy police and army presence on foot in the streets and on the roads and in the skies.
Police can enter your home without a warrant and there are reports of police breaking car windows to force people to hand over details.
The media and government have started talking about forced vaccinations this week.
Warnings on YouTube and Google regarding new censorship legislations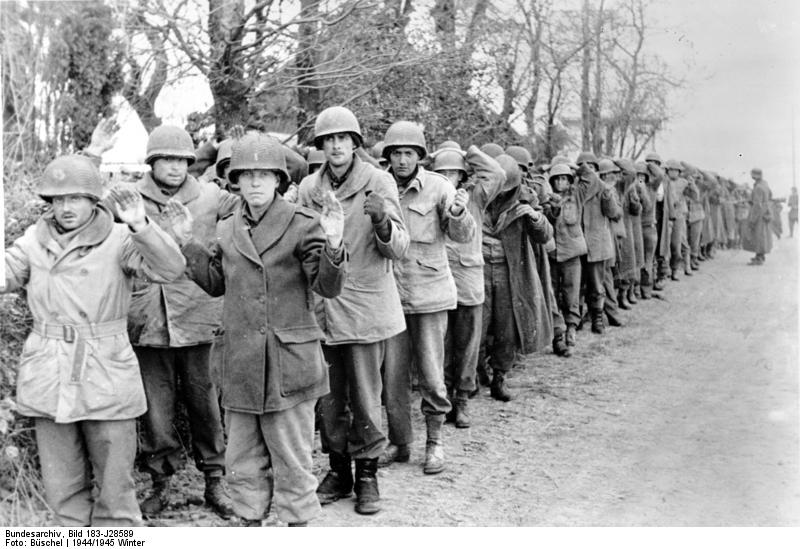 All of this and much more with 458 deaths. Our annual influenza death rate sits at about 500-800, and they're saying influenza has completely disappeared in Australia this year. Nearly all deaths are in nursing homes. For perspective, our annual suicide rate is about 3000 annually, but I've read reports that we've already far surpassed that number in 2020. The majority of suicides occur in people under 44. This boggles my mind the most, especially since I was hospitalized for an attempt in November and have been treated like absolute crap by the mental health system since. COVID concerns or symptoms are treated with the utmost importance and there are specialist testing tents set up in nearly every large regional town near where I live and everywhere in the city and they're often empty.
There is a great Facebook group called
Millions Rise for Australia
which is absolutely flooded with real-world stories of Australians like me enduring absolute hell at the moment. I'd recommend everyone who cares jump in and join the group for support and to witness the insanity we are living via personal accounts. I've read lots of conspiratorial reports in that group of people in Melbourne hearing helicopters and planes flying overhead during the curfew spraying, odd sulfur smells during the curfew, waking up with yellow powder over the streets, birds waking and chirping hours early at 11pm-2am, explosions (I've experienced this where I live too), rumors of child trafficking rescue missions.
Something is definitely going on here and my mind is absolutely spinning with the myriad conspiracies on my own fucking doorstep. I've never posted in this group (I've been a lurker for years), but I check daily for Melbourne updates and felt I'd share my brain dump. I may share more stories as I see them arise but all of this just makes me feel so sick mentally. They're making anyone who questions the narrative feel psychotic and for me, that's what's destroying me the most, emotions exasperated by my pre-existing mental illness (BPD with delusional episodes).
I don't know what this post is besides a rant and awareness-raising for my fellow empathetic humans overseas. Please just spare a thought for us here, join the FB group to help show our government the world won't stand for this, and if your time comes, just don't buckle under government pressure like we have. I do believe we are a testing ground for either a new world order or some kind of communist/China takeover (the later is especially interesting given Victoria's relationship to China.) As a society, Victorians are notoriously apathetic, easy-going, and progressively people-centric.
To me, it feels like Victoria and NZ could be a testing ground for forced vax and/or majorly increased censorship and/or new world order/China dictatorship.
Thank you. I really thought this was a lucky country. I like Australians as people, particularly the cool kids in Melbourne as that was my home for nearly 10 years, but this whole situation has me questioning the critical thinking and brain processing power of even some of my closest and oldest friends, and basically this entire state. It's truly bizarre but I'm glad I'm not alone; there is definitely an uprising in people seeking truth.
Oh and a few more important restrictions I realize I should have added:
8. People in Melbourne are only allowed to travel within a 5km radius, and;
9. People in Melbourne are only allowed to leave the house for one hour of exercise per day
 10. They're deploying drones in the city to ensure people are adhering to these measures
——————
Here in Norway, on the other side of the globe, we have a population of 5 million, and 13 (thirteen) people are currently (as of yesterday) hospitalized with covid-19. Zero of these are on ventilators. You can count our summer covid deaths on one hand, and those are elderly people who would've died by the flu anyway. Our average covid death age is higher than the general age of death.
Despite this, our government and our MSM are threatening to close down the country once more. Several schools are currently closed and under quarantine, due to "local outbreaks". There are severe restrictions on the size of social gatherings (except BLM protests), and small businesses are going bankrupt by the hour, while unemployment is rising exponentially.
Hospitals are empty (my SO works as a nurse on a covid ward), and regular diseases aren't treated anymore, at least not by our public healthcare system. —
——————
I live in Melbourne and it is definitely affecting me. I'm a lonely person who has almost zero interaction outside work but what helps keep myself occupied and feel better is spending time outdoors and in the gym.
Now, I'm bored to death and there's absolutely nothing to do. I've already gotten sick of binge-watching movies/series and grinding levels in my card box in the last 4 months and it's driving me nuts knowing I can't do anything about it.
I gained from 60kg to 76kg due to binge eating trash thanks to our dictator wannabe state government that severely restricted our movement.
I have to carry work permits all the time like everyone and worry about getting stopped at checkpoints outside work hours.
Go look how almost everyone is a hellbent pro lockdown in r/Melbourne sticky COVID thread and those who are against it gets downvoted into oblivion, we're so fucked.
From a longtime Melbourne reader-
Melbourne is a basket-case. Docile and pathetic! Also, it has a left-wing population that is fine with left-wing tyranny, Our premier Daniel Andrews is a left-wing tyrant that makes announcements in front of the newspeak doublethink slogan of 'Staying Apart Keeps Us Together'. He has created a Soviet police state all around us and anyone pointing out the obvious is labeled a 'conspiracy theorist' by the media. The whole world can see Melbourne is under tyranny, why can't our media or the general population?
Why aren't the business owners and effected workers at least screaming from the rooftops against the lockdown? The lockdown 4 night-time curfew which they've imposed is clandestine and nefarious. Up until the time of the announcement of the curfew the streets and shops in the evening were quiet – so why impose a curfew? Whilst most of us aren't allowed out after 8 pm. I hear planes coming in for a landing, and choppers buzzing around at any hour. Recently I observed at 2 am a plane that flew along a circular route over my area about a dozen times. Why? Melbourne is a very big city in the area and my movement is restricted so I have very little idea what's happening, but I know something is.
Lastly, I was stopped by the police the other day. Even though I don't believe in any of this rubbish, I left my house wearing a cloth around my face. Two minutes walk up my very quiet street, the cops swerved up alongside me in their unmarked commercial vehicle (and on the wrong side of the road) to question me. They asked where I was going, what I was doing, and for my license. This is just ridiculous and dehumanizing. Even if you try and go along with the system you are treated like dirt. My nearest supermarket is 25 minutes' walk away (there is only one-hour maximum in a day you are meant to go out.) It is virtually impossible to keep all these regulations. There needs to be mass resistance here like in Germany for change to be remotely possible, but it won't happen. There have been several anti-lockdown protests (which are "illegal"), and the numbers there have been modest at best. The only viable challenge from here against the system that I'm aware of is
AdvocateMe  
++++++++++++++++++++++++++++++
August 17, 2020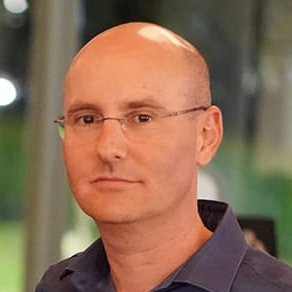 "Prof. Udi Qimron, left, will soon head the Department of Clinical Microbiology and Immunology at Tel Aviv University.
"In an interview with Yediot Ahronot, Qimron shed further light on the coronavirus.
'There is a very great interest for anyone who has supported the draconian measures taken around the world to say that Sweden's policy has failed. Because if it succeeded, and trillions went down the drain for no reason, someone will have to answer for it.'
"'That is why all over the world they prefer to claim that [Sweden] was wrong. But in the end, the truth came to the surface. In a world where decision-makers, their advisers and the media were able to admit their mistake and the initial panic that gripped them, we would have long since returned to routine. The ongoing destruction due to the inability to admit this mistake, despite the epidemic's small mortality numbers, is outrageous. History will judge the hysteria.'
"'If we had not been told that there was an epidemic in the country, you would not have known there was such an epidemic and you would not have done anything about it,' he said emphatically.
'The fact that this issue runs all day in the media inflates it beyond its natural dimensions. If black death had raged here, as in the 14th century, you would not have had to follow the situation in the news, the bodies would have piled up in the streets. We were not and we are not in this situation today.'
"Prof. Qimron noted that the total number of coronavirus deaths does not exceed 0.1% of the total population in any country, and the death rate from coronavirus is less than 0.01% of the total world population, meaning that 99.99% of the world's population so far has survived the epidemic and the virus is negligibly lethal.
"He said smart behavior would be the opposite of what we do today; Populations not at risk should become infected and create chains of immunity, which will protect the sick and the elderly. We are currently working for sweeping social distancing, which prevents such differential immunity, he said."
+++++++++++++++++++++
August 24, 2020
by Frank 
(henrymakow.com)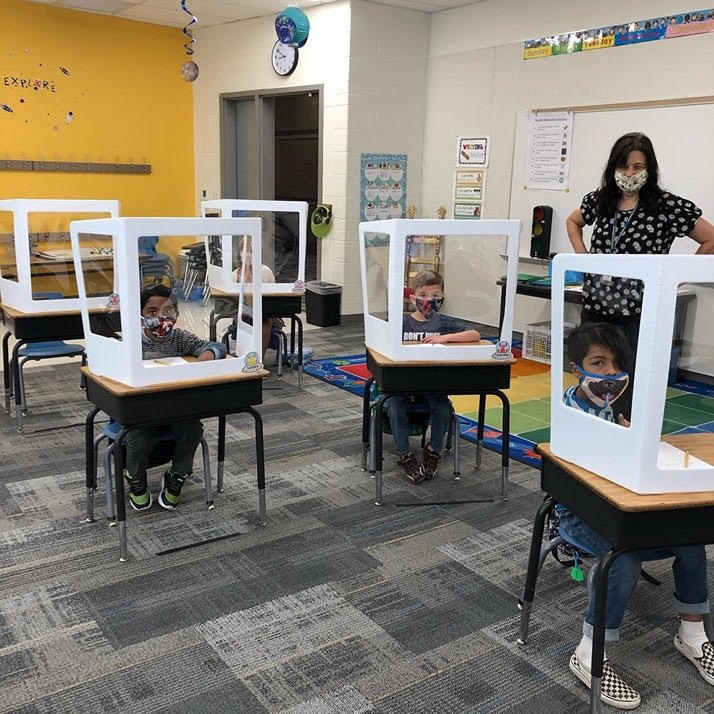 The Illuminati are engaged in psychological warfare against the public. "Social distancing"  can be traced back to established CIA torture techniques.
Whether we are wearing masks (to dehumanize us), social distancing (for tracking and tracing purposes), or isolating for 14 days – these are all methods of torture.  Even the lie about asymptomatic people a.k.a. healthy people now becoming potential spreaders of a virus that was never purified,  is meant to cast suspicion and motivate us to distance from one another.  This is psychological warfare.
A recent headlines in Bloomberg states:

In a previous article,
we published the research of Civil Rights Attorney Leigh Dundas on the origins of "social isolation" techniques which she found traced back to torture techniques used for decades by the CIA.
She says social distancing and isolation techniques were developed 70 years ago by the CIA to break down enemies of the state. They are the equivalent of smoking 15 cigarettes a day AND being an alcoholic. They double the risk of death and destroy the part of the brain responsible for learning.
Rosner wrote: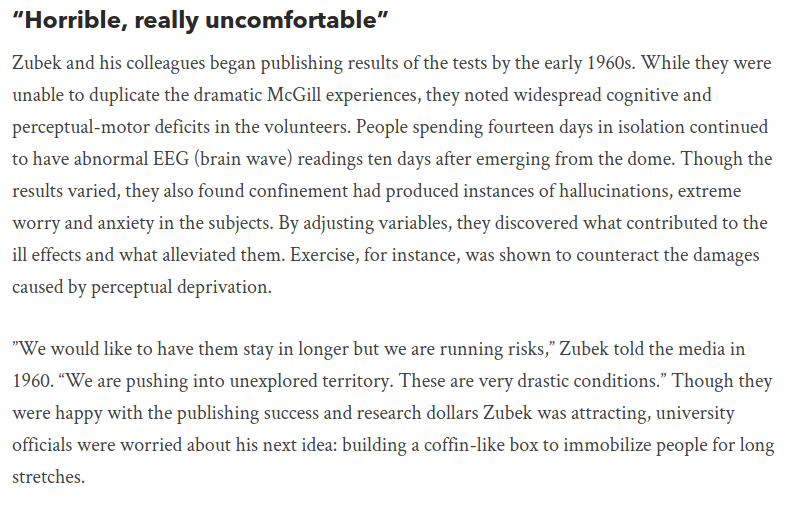 Recently, I came across this 1951 quote by philosopher Hannah Arendt that rattled me to my core. What is happening now has happened before. It's a calculated plan, a tactic, but many of us don't know it. Here's the quote: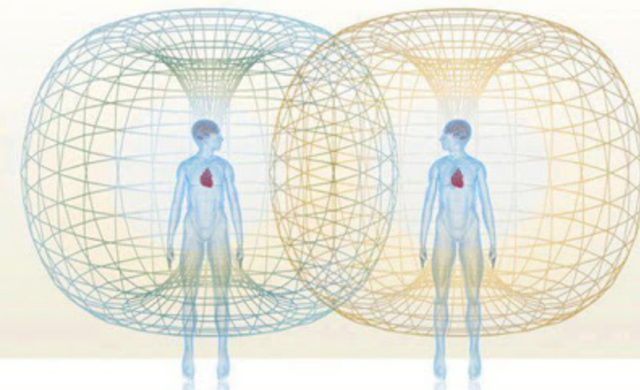 (The real reason behind social distancing: To cut off our electromagnetic connection with each other. They want you totally disconnected from each other in this time of awakening.)
"It has frequently been observed that terror can rule absolutely only over people who are isolated against each other and that therefore one of the primary concerns of a tyrannical government is to bring this isolation about. Isolation may be the beginning of terror; it certainly is its most fertile ground; it always is its result. This isolation is, as it were, pre-totalitarian; its hallmark is impotence insofar as power always comes from people acting together, acting in concert; isolated people are powerless by definition."
The Origins of Totalitarianism
History is repeating itself. The Cabalists are attempting to break us all down – mentally, physically, and spiritually. Loneliness, suicide, anxiety, alcoholism, spousal/child/animal abuse are all increasing due to isolation, anti-social distancing, wearing masks, and the financial hardship brought on by this planned and scripted psyop.
We must rebel against this tyranny, so speak out! Make yourself heard. Expose the lie. Remain in contact with friends and family. Reach out to those who are isolated, even strangers. Let's all stay connected. Let's all stay united!
——
This shows how far humanity has strayed from its Creator.
The FACT is that we are never alone, even when we wish we were.  There exists a supernatural world; the beings thereof can observe any or all of us at any time, more likely, all of the time.  God, the Creator of all, sees all, knows all, and is always present to every human being.  He also assigns each a guardian angel at the instant of conception who would likely enjoy being talked to by each of us.  There is always someone in this invisible (to us) world ready to hear and help us if we but ask.  Of course, the result will depend on our merits or demerits toward God in our own lives – not always an encouraging thought according to our actions and desires.
When "isolated," one from another, we could and should converse with these beings.  A form of prayer, yes.  Also, a form of most basic sanity, even though those who believe the totally absurd nonsense that somehow nothingness suddenly exploded into something worthwhile without any creator's help are the same people who call believers in God as our Creator, "believers in fairy tales."  Which is the more logical tale?  Which patently insane?
Even the Freemasons believe in their "creator" but that entity is himself an over-proud creation of God named Lucifer.
If enough people had still been "fairy tale believing religious fanatics" this present blind obedience of the many to the satanic agenda of the very few could not have even been thought of as a possible plot for enslaving mankind.  True religion has obviously morphed into a lukewarm imitation of what God expects from his creatures.  I know that description includes myself.
The whole scenario can be reversed very quickly by enough people returning to putting God first in their lives, but if no changes are made in the minds of men we are all in for a very rough end.  If you can't talk to another person today, you now have a perfect opportunity to talk to Him as He is wherever you are.  Guaranteed.
++++++++++++++++++++++
August 16, 2020
Thanks to K!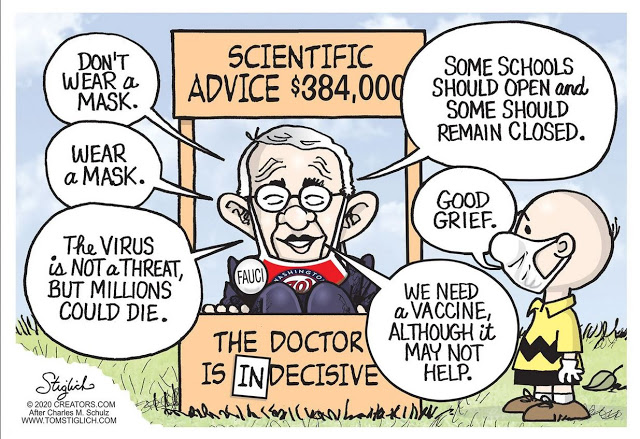 (Dr. Fuzzy) 
THE CAT IS OUT OF THE BAG… THE CDC, THE WHO, AND ALL THE SO-CALLED EXPERTS LIED TO YOU!!!

⚠️ EVERYONE IN THE ENTIRE COUNTRY NEEDS TO READ THIS AND ABSORB IT… THOSE STILL ASLEEP, YOU BETTER WAKE UP BECAUSE THIS SHAM/DRESS REHEARSAL WILL CERTAINLY BE THE LAST CHANCE; THOSE CHOOSING TO REMAIN IN DENIAL, GIVING THE FINGER TO REALITY, YOU'RE ON YOUR OWN …
FEEL "FREE" TO FACT CHECK EACH OF THESE, PLEASE!
🔺"CDC admitted they screwed up COVID19 infection counts and intentionally misled the public and have apologized, clarifying that the amount of people truly infected is much lower than what was originally reported — an error so egregious it made the director of the Harvard Global Health Institute say "how could the CDC make this mistake? This is a mess."
🔺The American Coronavirus Task Force also admitted to fudging the National COVID19 death count when Dr. Birx said the deaths are people who died "with" COVID19 not "from" COVID19, thus making the real death count much lower than what is currently being reported.
🔺Dr. Anthony Fauci admitted masks won't help against the virus and mask manufacturers are now including warnings that their products do not deter COVID19.
🔺Fauci also said that continuing to close the country could cause irreparable damage.
🔺CDC backtracked their initial claim that led governors to shutdown their states & clarified that COVID19 does not spread easily on surfaces.
🔺Governor of New York Andrew Cuomo confirmed a recent health study showing that 70% of new infections actually originate at home, thus making stay-at-home orders one of the most dangerous mandates currently in place.
🔺Trump stopped funding the WHO and threatened to cut off money permanently until they can prove they are no longer corruptly influenced by communist China after they lied to our country about human to human transmission of COVID19 in January.
🔺The curve is flattened, the CDC, WHO, Dr. Fauci, our governors, and many more were completely wrong about the potential threat of this virus.
🔺If you are still living in fear, Don't be. The media, global organizations, the government, and its agencies "mislead" the public.
🔺People called those of us who knew this all along conspiracy theorists, but it turns out we were just following the facts!
🔺Open up your businesses, churches, and homes. Don't fall for the lies any longer. If you fell for the lies this time, wake up and join the army of truth-seekers fighting on the front lines.
🔺 Florida has just admitted to miscalculations on some that received positive COVID-19 results but never got tested and many others have been incorrectly identified as positive in the state's system.
🔺 WHO has just admitted that transmission of the virus from an asymptomatic carrier – the whole reason for the lockdown, is rare!! ie you could not spread it before showing any symptoms!!
⚠️ The CDC just confirmed a .4 to .26% death-rate for COVID 19. The death rate for the flu shot is .6. Twice as high as COVID!
For that, we have:
• Added nearly 6 trillion to the national debt
• Laid-off or furloughed 50 million workers
• Placed 60 million on food stamps
• Gone from 3.5%to 14.7% unemployment
• Crippled the petroleum industry
• Ruined the tourism industry
• Bankrupted the service industry
• Caused an impending meat and protein crisis
• Threatened, fined, and arrested church leaders
• Exacerbated mental health problems
• Shut down schools and colleges
• Given unbridled power to unelected officials
• Increased suicides higher than COVID deaths
• Delayed surgeries and treatments for profound illnesses
• Infringed upon countless important civil liberties
• Placed 300 million Americans on house arrest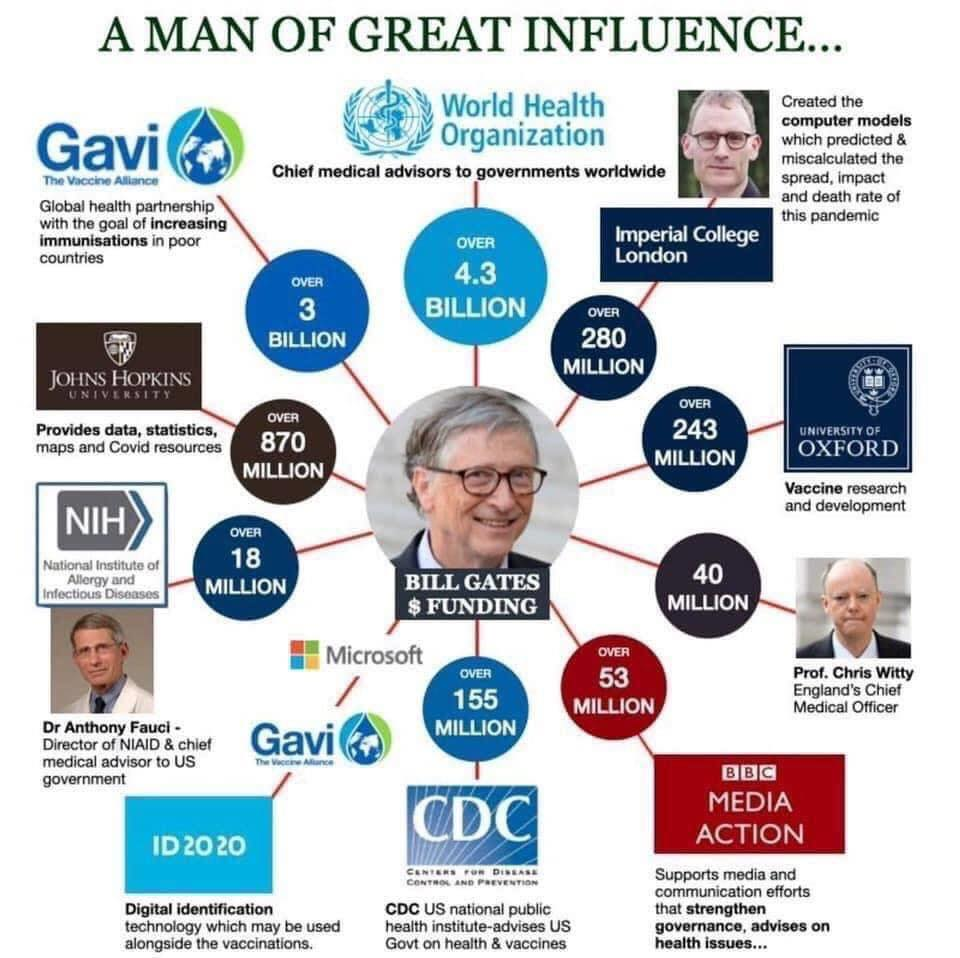 Bill Gates has placed himself in such a position of influence by heavily funding all corners to make this lie happen.
We need to start treating it as the lie it is.
Seriously our whole way of life is at stake, and they have plans to make it much worse now introducing it as "the grand reset", "the beginning of the 4th revolution" (ie a surveillance state of control, where everyone lives in what is essentially a strick open-air prison where you are tracked, nothing is private, and everything is decided for you, and you have no rights whatsoever, and there can be no resistance.
Welcome to their "new world order".
+++++++++++++++++++
August 25, 2020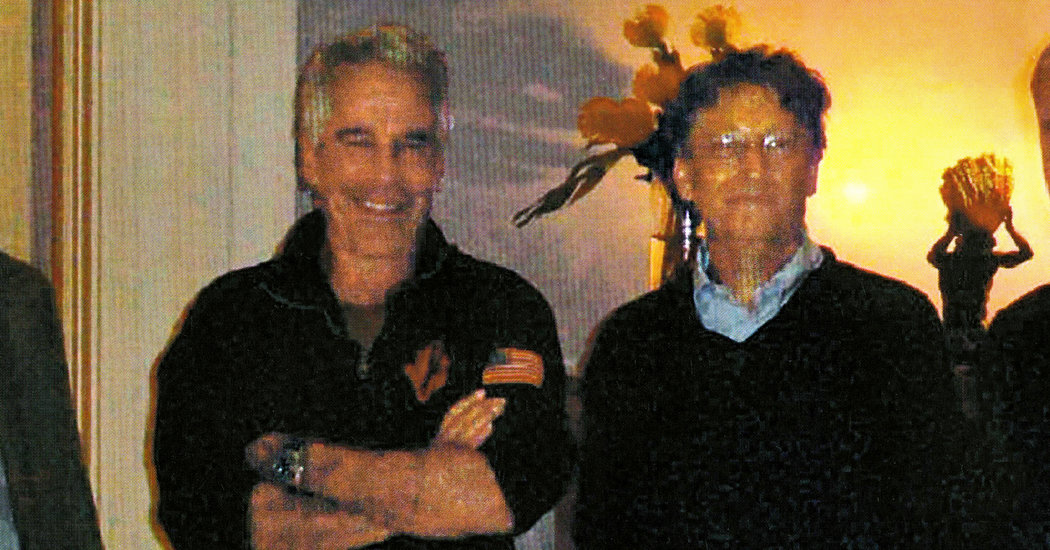 (When Bill Met Jeffrey)
Bill Gates ticks all the boxes for a key Illuminati "Change Agent":
– Pervert 
– Crypto-Jew
– Thief
– Genocidal maniac  
This prescient article from 2013 also traces the sinister agenda unfolding today. Makes sense that a pervert would be at the forefront.
Latest-  Bill Gates' Ties to Jeffrey Epstein (Did someone say, sex addict?)

from July 7, 2013
by Henry Makow Ph.D.

Recently I was contacted by someone who knew an intimate of Bill Gates from the early 1990s, when Gates was in his late 30's. I was given the name of this intimate, and he checked out.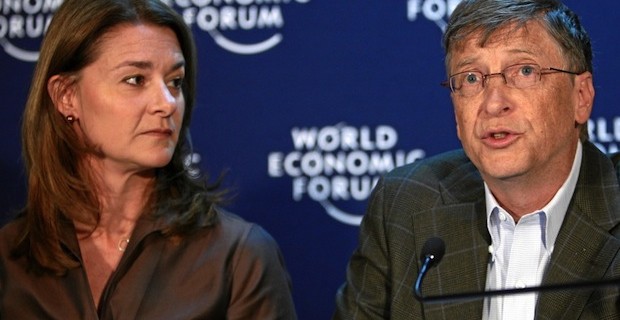 (Is Melinda Gates a tranny?)
This intimate  "was scary, like the kind of scary you talk about. He was very secretive. He was an originator at many tech companies. But basically he told me Gates did nothing but watch porn all day–and have relations with very deviant women. They found Melinda for him as a cover. [The marriage took place in 1994]
The source continued:
"
Basically [the intimate] told me Bill was a heavy porn addict. They used a lot of recreational drugs together.  BG also had several deviant sex partners —  a sex addiction– and finally the sex with one became such an addiction that it was interfering with his job. A group of friends found a way to get him away from the girl—I guess people were finding out. Between porn and the girlfriends, his family had to find him an upstanding wife–so they arranged for him to meet  Melinda at a picnic.


"I am sure you know this, but the BG foundation vaccines have killed tens of thousands of kids in India. [
In 2011 alone, the Bill and Melinda Gates' polio vaccine campaign in India caused 47,500 cases of paralysis and death.]The western media does not cover it, but it is out there. The foundation worked to develop some "evidence-based tools" that help persuade reluctant American parents to vaccinate."

"We can add this all up. He is developing technology to change the weather–you can find his lectures on youtube. He practically owns Monsanto now, so is developing crop technology (some of these crops harm fertility), and now world vaccine and population reduction programs. BG's family is steeped in the eugenics movement. [His father was President of Planned Parenthood.] Add it up and tell me how that is a good thing. I am no brain surgeon but it does not take much to see what is happening. BG and his wife regularly make an appearance at Sacred Heart Catholic Church in Bellevue. Now, that's a laugh."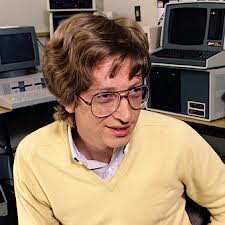 (Young Bill Gates channels Woody Allen. Gates is a Jew.)
CONTROL FREAK

As my readers know, the world is controlled by a Satanic cult, the Illuminati, which consists of Cabalist Jews who have interbred with other generational Satanists.
Their goal is to own and control everything including your mind and soul. (Our political and cultural leaders are their errand boys.) 
Bill Gates is a prime example of how they execute this agenda using tax-exempt "charitable" foundations. Likely, these people are allowed to attain their wealth on the condition that they will use it for the cause of Satan. (See "Billionaires Pledge Half their Fortunes to Charity" ) 
Here are a few examples of the monolithic control the Illuminati is imposing on society: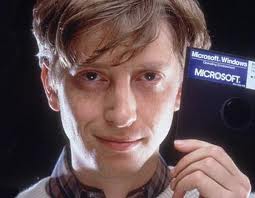 Curriculum: The Gates Foundation financed the "Common Core" curriculum which replaces the great works of Western Civilization with books written by Illuminati hacks. Thus, Shakespeare is being replaced by Malcolm Gladwell's Tipping Point and other books that support drugs, homosexuality, miscegenation, and global warming. Because the Obama administration has made federal funding contingent on adopting this curriculum, 46 states have already signed on.

Population Control: 
"Plans are already in place to track births and vaccinations through cell phone technology to register every birth on the planet.  Gates claims that GPS technology would enable officials to track and "remind" parents who do not bring their children in for vaccines.   Maintaining that vaccination is key to reducing population growth, Gates disingenuously predicts that "if child mortality can be reduced, parents will have fewer children…"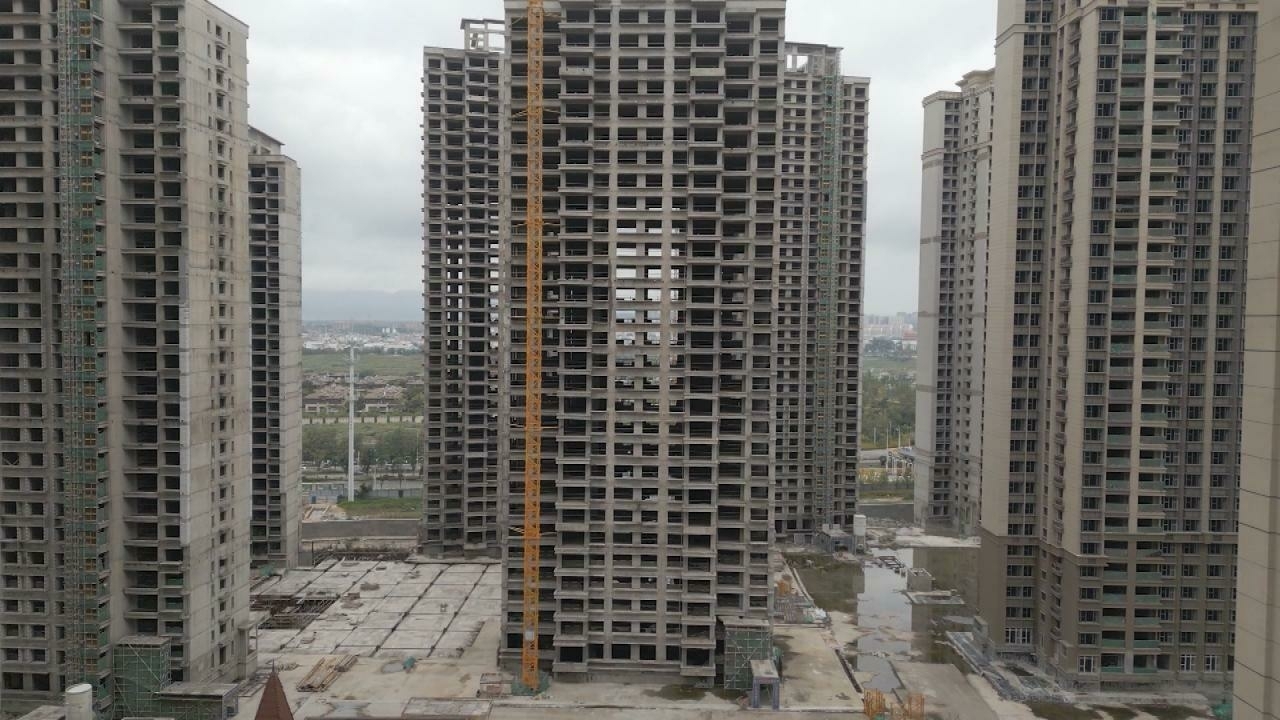 (BG Sr.)
Control over Food Production: "After the
Bill & Melinda Gates Foundation purchased 500,000 shares in Monsanto back in 2010, valued at more than $23 million, it became abundantly clear that this so-called benevolent charity is up to something other than eradicating disease and feeding the world's poor. It turns out that the Gates family legacy has long been one of trying to dominate and control the world's systems, including in the areas of technology, medicine, and now agriculture.

The Gates Foundation is currently spending billions of dollars in the name of humanitarianism to establish a global food monopoly dominated by genetically-modified (GM) crops and seeds. And based on the Gates family's history, it appears that one of its main goals besides simply establishing corporate control of the world's food supply is to reduce the world's population by a significant amount." Source
CONCLUSION
The Gates Foundation "is making great strides to control the world by pretending to help improve and save it."

This is the Illuminati Jewish modus operandi. "Heal the world."  When James Wolfensohn was the Head of the World Bank, he had a sign on his desk, "Plutocrat for the Poor." Meanwhile, he was robbing them blind. Obviously, these tax-exempt "charitable" foundations are enslaving us, at our expense, and should be abolished.

In the span of my politically conscious life, roughly 50 years from 1963 to the present, I have seen society go from censuring extramarital "illegitimate births" and presenting separate marital beds (on TV) to non-stop sexual filth, occultism, and violence. Society has been inducted into a satanic cult by the Illuminati mass media.

Satanists are able to cloak themselves in "truth and goodness" but occasionally they are revealed for what they are: perverts, psychopaths, and megalomaniacs. We are leaving our children a world governed by these monsters.

People often demand that we put a face on the Illuminati. One face ticks all the boxes – Bill Gates.
—-
Related: 
Latest!!!–David Icke Interview: Bill Gates, Elon Musk & Soros Are Frontmen For The Top of the Pyramid
Bill Gates Foundation is affiliated with the Satanist Lucis Trust 
First Comment from Dan Butler (1955-2018):
Henry,  on the list of Gates' "qualities" you forgot 'intellectual property thief'.   [added now]
Back in 1998 Micro$oft was indicted by the Federal Justice Dept. for violations of the Sherman Antitrust Act 1890.

The judgment in the United States vs M$oft, on November 5, 1999, ruled that Microsoft's dominance of the personal computer operating systems market constituted a monopoly and that Microsoft had a policy of aggressively undermining all competitors.

The court ordered the breakup of Microsoft into two separate units for the operating system, and the other for its software.  The ruling was overturned on appeal in 2001.

I remember it was fun watching Gates on the hot seat.  Watch him lying his head off in this deposition tape.
+++++++++++++++++++
[At the bottom here, see an addendum on Fauci's long-time connection to other Jew psychopaths.]
+++++++++++++++++++++

---
Henry Makow received his Ph.D. in English Literature from the University of Toronto in 1982. He welcomes your comments at henry@henrymakow.com